Giveaway : 1st ANNIVERSARY TGB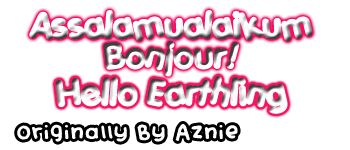 Hye kowang,This is the first time Aznie join Giveaway taw tak!
Slalunya Aznie just join segmen or contest only...
But this time I want to try something new....
Okeyhlah kowang p0wn bukknnyerw nak baca aperw yang Aznie merepek kan niew right?
Klaw aderw yang sanggup baca Aznie ucapkan Thank You So Much!
Okeyh mari kita teruskan kepada Giveaway tuwh!
N
ak Join Click Pada Banner!
Syarat-Syarat Penyertaan:
1- Buat 1 Entry bertajuk "
Giveaway : 1st ANNIVERSARY TGB
"
3- Letak Banner GA di entry.
4- Tag sorang jerw dan pastikan mereka tahu.
5- Wajib Follow dan like semua penaja.
6- Tinggalkan URL GA di ruang Comment
ini
sahaja,tempat lain tidak diterima.
*tempat komen yg dimaksudkan ialah pada entry empunya giveaway bukan saya taw.
Semua syarat sudah selesai dipenuhi.
Label: ok